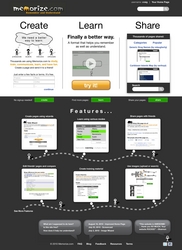 Ron White memory expert recommends this article :
Columbus, OH (PRWEB) August 19, 2010
An innovative approach to learning is catching on. Memorize.com is a new kind of learning website that utilizes user-generated content to help people remember and understand facts.
"Students and professionals have latched on to the site," says founder Craig Muth. "People are creating pages for everything from airport codes and pharmaceuticals to Spanish and Psychology 101, because there is an untapped market for a simple, quick learning tool."
Memorize.com allows users to create a page in seconds without having to sign up. Users just click the "create" button, type in their terms, and can then share their page with a friend. The website automatically provides interactive learning modes on content, including flash cards, multiple choice, visual learning diagrams and more.
The site's biggest innovation, according to Muth, is fusing remembering and understanding. "Suppose you want to help your friend learn about Greek mythology, or train a colleague about a product. Many sites help you understand and a few sites, like flashcard websites, do a good job at helping you remember. But no one does both in a simple way for free."
Memorize.com recently added "wizard" features for quickly creating pages. When editing, the free-form wiki format gives users full control over the whole page. In addition to facts, users can add descriptive paragraphs, headings, bullet points, diagrams, etc. to Memorize.com pages, to cover the understanding side.
The site also offers collaboration features. Users can "follow" other users and their pages, and edit other users' pages to create their own unique page. Users can compare between versions and merge changes back into their own page.
"Memorize.com's theory is that the web is ripe for a better, more interactive way to learn that lets users evolve the content," Muth said.
Key Features:
Wizards for easily creating pages
Simple interactive learning process (flashcard, multiple choice, and matching modes)
Free-form wiki editing/format
Visual learning using diagrams (labeled images) or tables of images
Image uploading and searching of thousands of existing images
Thousands of existing pages on various subjects
Auto-creation of maps for learning geography
Craig Muth
Memorize.com
(636) 674-9320
info(at)memorize(dot)com
###